Gian Maria Tosatti
Description
Gian Maria Tosatti (Roma, 16.04.1980 - lives in New York) made his first steps in 2002 at the Centre for Theatrical Research and Experimentation of Pontedera working on performances. In 2005 Tosatti moved back to Rome to undertake an artistic research between architecture and visual arts which inspired all subsequent works resulting in site specific installations. His projects usually are long term investigations on specific topics related with the concept of identity, from the political to the spiritual standpoint. The first cycles of works he developed have been «Devozioni» (2005-2011) - ten installations for ten buildings of Rome about the archetipes of the modern era - and «Landscapes (2006-) - a project of public art in conflictual areas.
Tosatti is currently working on two new projects, «Fondamenta» (2011-), based on the identification of contemporary age archetypes and «Le considerazioni...» (2009-) dedicated to the aenigmas of personal memories and to the traces that human beings leave behind them.
Between 2013 and 2016 his research focused on a work that has embodied the entire city of Naples. It's title is "Sette Stagioni dello Spirito".
Tosatti is also a journalist. He had been editor chief of the weekly cultural newspaper «La Differenza» and has collaborated with several italian newspapers and magazines as columnist. Currently he's columnist for Artribune and writes on Opera Viva. He writes essays about art and politics.
In 2011 he curated RELOAD, prototype of cultural urban intervention about the temporary use of improductive spaces and he's founder of the project "La costruzione di una cosmologia". His work has been shown at the Hessel Museum of CCS BARD (New York – 2014), the LMCC (New York - 2011), American Academy in Rome (Roma – 2013), Museo Villa Croce (Genova – 2012) Andrew Freedman Home (New York - 2012), Tenuta dello Scompiglio (Lucca - 2012), Palazzo delle Esposizioni (Roma - 2008), Chelsea Art Museum (New York - 2009), BJCEM (2014), Centrale Montemartini – Musei Capitolini (Roma – 2007), Wilfredo Lam Museum (La Habana - 2015), Casa Testori (Milano - 2014), MAAM (Roma - permenent), Castel Sant'Elmo (Napoli - permanent), Museo Madre (Napoli, 2016).
Creator
Tosatti, Gian Maria
Collection Items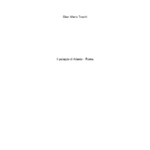 Il palazzo di Atlante is a project for an environmental scale intervention, designed for the Ufficio Geologico building located at largo Santa Susanna, Rome. The place is currently abandoned, and was designed between 1873 and 1879 by the engineer…
View item
Collection Tree
Social Bookmarking