The Room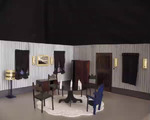 Description
The Room is a film created by Marko Tadić using stop motion animation technique, but it was abandoned by the artist during the editing phase. The video represents a seance, or rather what happens in the room after everyone has left. The animation reveals furniture and objects moving, candles burning down, light effects and flashes similar to explosions, and the appearance of figures - toys and knick-knacks. In the closing scene, a small pottery cat looks into the fixed camera and in the background we can see the almost destroyed room.
Read more.
Contributor
Scotti, Marco
Rights Holder
Marko Tadić
MoRE museum
Collection
Citation
Tadić, Marko, "The Room,"
MoRE
, accessed March 8, 2021,
http://www.moremuseum.org/omeka/items/show/136
.
Social Bookmarking
Item Relations
This item has no relations.