The Square Opposite the Townhouse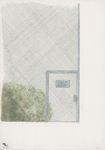 Title
The Square Opposite the Townhouse
Description
City centre of Hamburg, Germany. Until the early 1990's there were still "empty places", brownfields, remains of World War II. One of these wastelands I loved very much. A square in the middle of the business centre. It was raw and unkempt, hardly used. Significantly, it had (unlike today) no name. It was so beautiful, because it was a rare place of the unresolved and unclear in the chic, rich inner city. On it the hidden traces of its past paired with the still unthinking possibilities of a future. I began to observe and document it closely. I went into archives and searched for everything that had ever been on this square in past years and centuries. Around 1990, new buildings began to be erected in the immediate vicinity and on the larger part of the square. Office, commercial and hotel buildings. Thus the inner city centre lost its last (aesthetically) open, disorganized area. I made two suggestions for the remaining part of the square. A) The remaining wasteland was to be surrounded by an extremely high fence. I should have the only key to the piece of land. B) A panorama building was to be erected on the square for my extensive archive on the fallow land and on "everything that had ever been there".
Read more.
Rights Holder
Till Krause
MoRE museum
Collection
Citation
Krause, Till, "The Square Opposite the Townhouse,"
MoRE
, accessed March 8, 2021,
http://www.moremuseum.org/omeka/items/show/144
.
Social Bookmarking
Item Relations
This item has no relations.
Geolocation