Tiramolla 92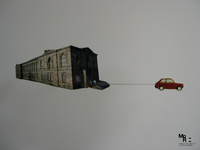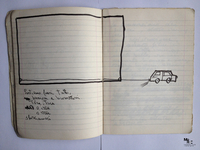 Description
Tiramolla 1992
is a project presented by Liliana at the
documenta 9
of Kassel, directed by Jan Hoet with a team constituted by Pier Luigi Tazzi, Denys Zacharopoulos e Bart de Baere. The place chosen for the work was the Neue Galerie and the project was particularly complex and elaborated with the support of an engineer of a specialized firm. The plan was to stretch a steel cable till the museum's last wall; this should go through the whole length of the building and come outside, where it should be anchored at the artist's car, a red Fiat 126, left turned on with the engine running. The steel cable (that has been reproposed in the work exhibited in Kassel instead of this project,
Tiramolla
) would have passed therefore through the whole exhibition's space, suggesting to the viewer a different understanding of the place and converging outside towards an object connected with the artist's everyday life: her car. Technical and structural problems were the main reason it hasn't been realized; the project was also considered too dangerous.
Read more.
Contributor
Zinelli, Anna
Identifier
Rights Holder
Liliana Moro
MoRE Museum
Collection
Citation
Moro, Liliana, "Tiramolla 92,"
MoRE
, accessed March 8, 2021,
http://www.moremuseum.org/omeka/items/show/46
.
Social Bookmarking
Item Relations
This item has no relations.
Geolocation