Untitled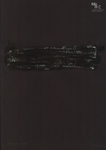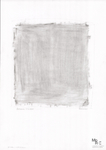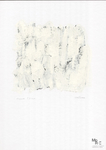 Description
In March 1991 the collector and publisher Francesco Conz, in collaboration with the Muzej Suvremene Umjetnosti - MSU Zagreb, invited a few artists who had been part of Gorgona, the Croatian avant-garde group active between 1959 and 1966, to an artistic residency at the castle of Brunnenburg in Merano, Italy. This residency should have resulted in a publication linked to the monumental project Conz dedicated to Ezra Pound -
La Livre,
which was never completed.
During their residency, the five artists created thirteen works of art as well as fifteen hand-made copies of each work. All of which were created on the same size of paper. These works should have been part of a box, an art edition that initially should have included large-scale reproductions of seven of the group's old works, printed on canvas in Como, in addition to en eight obtained by merging the former in a continuous strip to create sort of a "collective work" - together with photographs documenting the residency, historical photographs and video interviews filmed in Brunnenburg. Conz died in 2010 but the box was never finished, although all of its components had been created, except for the folder that was supposed to contain them. The works of the artists have since remained in F. Conz's Archive.
During his stay, Jevšovar created three different works of art. In two of them, both dated March 5th, he placed a quadrangular figure on the center of a white background, while in his third work, dated March 6th, he proposed a rectangular strip of color on a brown background. The works are therefore linked to the central theme of the artist's research, which is an attack on tradition - not ironically as it was in Dadaism, but rather looking at the surface as a central problem of pictorial structure.
Read more.
Creator
Jevšovar, Marijan
Contributor
Scotti, Marco
Zinelli, Anna
Format
image/jpeg
image/jpeg
image/jpeg
Identifier
Rights Holder
Marijan Jevsovar
MoRE Museum
Collection
Citation
Jevšovar, Marijan, "Untitled,"
MoRE
, accessed July 28, 2021,
http://www.moremuseum.org/omeka/items/show/56
.
Social Bookmarking
Item Relations
This item has no relations.