Quadro Generale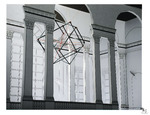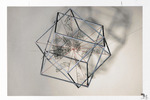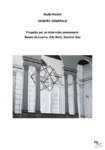 Description
The project by Giulio Paolini entitled Quadro generale (Overview) was developed by the artist between 2010 and 2012, and intended to be placed near the south steps within the Sully Wing of the Louvre Museum in Paris, which commissioned the piece. Although the artist's proposal had been approved in its final version in the summer of 2012, the initiative was not followed through for various reasons, including the appointment of a new director at the museum. The installation that Paolini had designed included a geometric structure in stainless steel, built around a square hanging from the ceiling in the center of the space. It contained fragments of plexiglass engraved with the same geometric designs which would have been placed on the surrounding walls, as if they had been scattered by an explosion of the nucleus. This complex structure, by its nature variable and cryptic although clearly structured, represents – as Paolini himself stated - the very idea of the museum: "some sort of 'big bang' of continued proliferation destined to an inexorable, vertiginous fragmentation until it almost exhausts much like a 'black hole' that prevents us to decipher it."
Read more.
Contributor
Casero, Cristina
Format
image/tiff
application/pdf
Identifier
Rights Holder
Giulio Paolini
More Museum
Collection
Citation
Paolini, Giulio, "Quadro Generale,"
MoRE
, accessed January 16, 2021,
http://www.moremuseum.org/omeka/items/show/85
.
Social Bookmarking
Item Relations
This item has no relations.
Geolocation