Davide Mosconi
Description
D
avide Mosconi was born in 1941 in Milan, the same city where he died in 2002. After graduating in piano and composition at the Milan Conservatory, in 1961 he moved to London where he studied photography at the London College of Printing. Since 1963, in New York, he worked for four years as an assistant to Richard Avedon and Hiro. He returned to Milan in 1967, a year later took place at the Gallery Il Diaframma his first solo exhibition entitled 
Il sogno di Davide
. 
In the same year he opened the photographic studio "Studio X" which he will carry out advertising campaigns, fashion and lifestyle works, while working also for music and video art. In 1972 he participated to the exhibition "The New Domestic Landscape" at the MOMA in New York with the short film "Something to Believe In." In 1974 he took part in "Fotomedia", a traveling exhibition curated by Daniela Palazzoli in various venues, including the Museum am Ostwall in Dortmund, and, in 1975, the Rotonda della Besana in Milan. In the early eighties he began to work, following an invitation from Polaroid, with the new oversized camera 51×61 cm, focusing on the theme of coincidences in the 150 years of the history of photography. Randomness is one of the aspects which Mosconi devotes a particularattention. 1984 is the year of the first series of triptychs, 
In Morte del Padre
. From 1986 to 1997 the main projects are the triptychs of Prague on the theme of the body, of still lifes and the Day skies and Night skies, then exhibited at the Guggenheim in New York and at the Museum voor Fotografie in Antwerp, as well as in private galleries in Europe and the United States. In 1991 and 1993 he participated at the Venice Biennale. Towards the end of the nineties he realised the two photographic cycles
 Disegnare l'aria and Polveri
,dedicated to Bruno Munari and exhibited in 1997 at alla Galleria Milano as part of a solo exhibition (catalog published by Charta). The latest series of works 
Autoritratti bucati
,was exhibited posthumously at the Galleria San Fedele in Milan in 2003. Mosconi has always flanked his photographic production with a thriving multi-disciplinary activity in performing arts,  inside which musical improvisation has always had a strong centrality. In 1970 thas been published the volume 
Lastoriadellamusicadidavidemosconi
 that provides a set of recipes for the execution of sonic performances. Many of his projects remained unfulfilled, just because they were by far too ambitious imagining a much broader involvement of operational forces.
Collection Items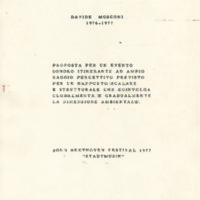 TRITON, a 7 days-long event designed and proposed by the artist for the 1977 edition of the Bonn Beethoven Festival, was then restructured and partially reduced in 1984 to be presented under the title LA LUCE DEL SUONO at the 1986 edition of the "Ars…
View item
Collection Tree
Social Bookmarking