Luigi Presicce
Description
He was born in Porto Cesareo (Lecce) in 1976, and lives and works in Milan and Porto Cesareo. He attended the Fine Arts Academy in Lecce, but his work has been decisively influenced by his independent studies. In 2007 he took part in the Advanced Course in Visual Arts (CSAV) at the Antonio Ratti Foundation in Como with the American artist Joan Jonas. In 2008, as part of the Artist in Residence initiative, he took part in the workshop at Viafarini in Milan with the American artist Kim Jones. In Milan in 2008 he also founded (with Luca Francesconi and Valentina Suma) the magazine Brownmagazine followed by the Brown Project Space, for which he acts as curator. In 2011 with Giusy Checola and Salvatore Baldi he started running "Archiviazioni" (research and discussion activities regarding contemporary culture in southern Italy) in Lecce. In 2012 he took part in Artists in Residence at MACRO, Rome. With Luigi Negro, Emilio Fantin, Giancarlo Norese and Cesare Pietroiusti he is involved in the Lu Cafausu project, which has been invited by AND AND AND at dOCUMENTA13, Kassel.
He performed at Fondazione Claudio Buziol, Venice (2010), Performance Festival Thessaloniki Biennale 3, Greece (2011), Festival Reims Scènes d'Europe, Frac Champagne-Ardenne, France (2011), MADRE, Neaples (2012), We Folk – Drodesera Festival, Centrale Fies, Dro (2012).
He won Epson Art Prize, Antonio Ratti Foundation, Como (2007), Emerging Talents Prize, CCC Strozzina, Palazzo Strozzi, Florence (2011), Long Play, MAGA, Gallarate (2012).
Collection Items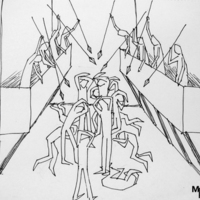 The project donated by Luigi Presicce (Porto Cesareo, 1976) consists in an unrealized performance. The action, with an utopian and theatrical nature, is inspired by the annual event in which the tuna migrate to the island of Favignana, in the south…
View item
Collection Tree
Social Bookmarking