La camera della morte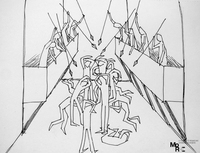 Title
La camera della morte
Description
The project donated by Luigi Presicce (Porto Cesareo, 1976) consists in an unrealized performance. The action, with an utopian and theatrical nature, is inspired by the annual event in which the tuna migrate to the
island of Favignana
, in the south of Italy, to reproduce themselves, and according to the artist to make a journey of love. On this occasion the fish goes through a maze made up of fishing nets to end up inexorably in the death chamber, where they are harpooned and killed. The action has been designed by the artist as a game of reversing roles, in which the men take the place of the tuna and unaware they are ready to participate to the last moment of their life, just waiting to be slaughtered by other men. It is a transposition of the man from hunter to prey, from victim to victimizer, an inversion that creates alienation and a violent trauma. All these elements lead the viewer to a possible kind of visionary hallucination, where the role of Presicce is no longer that of the protagonist of his own performance but of an expert Director of expert careful towards the construction of a new appearance. This performance also draws inspiration from a short aphorism by
Carmelo Bene
in which the actor claims that the public should pay the cost of the show with his own life.
Because of its utopian nature, it has never been possible to realize the performance.
Read more
.
Contributor
Rossi, Valentina
Identifier
Rights Holder
Luigi Presicce
MoRE Museum
Collection
Citation
Presicce, Luigi, "La camera della morte,"
MoRE
, accessed January 16, 2021,
http://www.moremuseum.org/omeka/items/show/20
.
Social Bookmarking
Item Relations
This item has no relations.
Geolocation