Vjenceslav Richter
Description
Vjenceslav Richter (Drenova, 1917-Zagreb, 2002). He earned his degree in architecture at the Technical Faculty in Zagreb in 1949. He is one of the founders of EXAT 51 (1951), Studio of Industrial Design (1956) and the Centre for Industrial Design (1963) in Zagreb. Richter headed the Architecture Department at the Academy of Applied Arts in Zagreb (1950-1954). In all his activities, from designing the exhibition spaces Pavilion for the World Exhibition in Brussels 1958 and Triennale of Milan in 1964, to painting, Richter carried out the principle of artistic synthesis. After becoming internationally famous thanks to these latest interventions, he worked on designs for museums at Aleppo, Sarajevo, Belgrade, Skopje, and Krapina. Beginning in the early sixties, he developed a systematic approach to urban planning (Sinturbanizam), which he further elaborated in the form of a theoretical project called Heliopolis, a four-dimensional megalopolis, of sculpture and painting between seventies and eighties.
His experiments in the field of visual arts associated him with the international movement of New Tendencies. During that period, between the seventies and the nineties, he created his cycles Centre i centrije (Center and Centers), Sistemske skulpture (System Sculpture), Reljefometri (Reliefsmeters), Sistemske grafike (System graphic) andProstorne grafike (Spatial graphic), which originated in his fascination with systems and his interest in the possibility of synthesis in the field of visual arts. In the thirty-odd pieces from his cycle on Prostorne slike (Spatial image), created in the nineties, he finally managed to elide the borders between architecture, sculpture, and painting.
Vjenceslav Richter and his wife, Nada Kareš Richter, donated their artworks and their family house, Tte two-storey villa at 38 Vrhovac houses, to the city of Zagreb in 1980, with the intention of promoting research on Constructivist art and providing a place for young artists to meet, but also in order to improve cultural affairs outside the centre of Zagreb. In 1998, the Richter Collection, as it is commonly called, was entrusted to MSU for management. That was also the beginning of vigorous work on documenting Vjenceslav Richter's art, as well as of close cooperation between the Museum's curators and the artist, which aimed at creating the conditions for opening the collection for the general public. In Spring 2000, the collection was opened to the public, while close cooperation between Vjenceslav Richter and the Museum was continued with further donations made by the artist. In 2007, Nada Kareš Richter donated some valuable archival materials and a library, which is now preserved and documented on the premises of the Collection.
Creator
Richter, Vjenceslav
Collection Items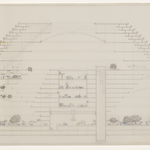 Richter developed the idea of Synthurbanism in the early sixties as a result of his in-depth analysis of the legacy of the historical avant-gardes and the synthesis of arts, through the principles of Modernism, along with the experience he acquired…
View item
Collection Tree
Social Bookmarking