Sketches for an unrealised magazine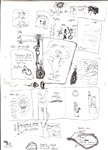 Title
Sketches for an unrealised magazine
Description
This project consists of an A4 paper with handwritten notes in both Arabic and English and sketches in black ink. It is the only existing document of a planned magazine to be produced by Hassan Khan with some friends at the time but was never realized. Still a rough draft, this sketch can be now interpreted in the light of Khan current practice, which includes visual arts, writing and music, mapping themes related to the current geo-political and social situation Contemporary life in Cairo was a fundamental reference next to diverse cultural influences including William Blake, punk, the philosophical mysticism of different traditions, various avant-garde movements of the twentieth century, modernist cinema and experimental music. A magazine could represent a way to subtly take on themes and be part of popular culture at the same time without being explicit.
Read more.
Contributor
Scotti, Marco
Rights Holder
Hassan Khan
MoRE Museum
Collection
Citation
Khan, Hassan, "Sketches for an unrealised magazine,"
MoRE
, accessed September 19, 2020,
http://www.moremuseum.org/omeka/items/show/105
.
Social Bookmarking
Item Relations
This item has no relations.