Dear Tattooist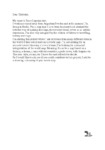 Description
This project moves from the interest of the artist in the map - a recurring theme inside his research - and wants to explore this form of historical representation with tattoos, a declared fascination of Runo Lagomarsino: in fact his idea was to invite several tattooists from all around the world to draw a world map, and in particular "a personal interpretation of the world map", without any limit or rule.
This work, that has never been realized, could be seen as part of a series of practices through which the artist "examines how we come to know and speak about the conflicting geographies and temporalities of power", investigating the map as way to measure, represent and control a territory, that contains in itself several contradictory truths and is strictly connected with an ideology, a vision or a point of view. In particular the use of metaphors and representations to study political and social environments here is declined through the potential multiple authorship of the tattooists that could have drawn the maps, and through the introduction of a technique usually connected with the idea of traveling and with the concept of identity. The tattoo, here a personal interpretation of something usually considered fixed, could have been another mean aimed at "the investigation of the historiographic, geographic and mathematical models that helped to ensure the colonialist domination of the world by Western modernity".
Read more.

Creator
Lagomarsino, Runo
Contributor
Scotti, Marco
Format
application/msword
image/jpeg
Rights Holder
Runo Lagomarsino
MoRE Museum
Collection
Citation
Lagomarsino, Runo, "Dear Tattooist,"
MoRE
, accessed June 24, 2021,
http://www.moremuseum.org/omeka/items/show/106
.
Social Bookmarking
Item Relations
This item has no relations.