Die Kristallader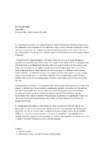 Description
Die Kristallader (The Crystal Vein) is a project in public space that Helen Mirra developed in 2014 as part of a competition for the city of St. Gallen in Switzerland.
The assignment of the competition was that the artistic intervention should connect the newly built Natural History Museum, which is located in the periphery, with the city center.
Helen Mirra's project proposal was an irregular "line", a crack in the asphalt filled with a shiny metal that leads from the city center to the Natural History Museum on a path carefully defined by the artist. The shiny crystal vein guides the visitors on a 3 km long walk through St. Gallen, allowing them to perceive the surroundings, time and movement in a different way.
The jury ultimately chose another submitted project, so that the Crystal Vein was never realised.
Read more.
Contributor
Rekade, Christiane
Rights Holder
Helen Mirra
MoRE Museum
Collection
Citation
Mirra, Helen , "Die Kristallader,"
MoRE
, accessed September 27, 2021,
http://www.moremuseum.org/omeka/items/show/158
.
Social Bookmarking
Item Relations
This item has no relations.
Geolocation