Untitled (svjetlosni štafelaj, light easel)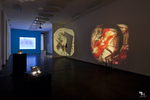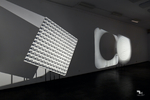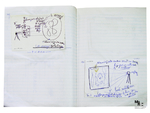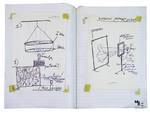 Title
Untitled (svjetlosni štafelaj, light easel)
Description
Attempting to find the "way out" of painting, and depict "the oscillation of matter", Antun Motika tried to get closer to "the culture of light". For Antun Motika one of the important and consistent fascinations was the obsession with "pure light" which in various manifestations stretches through his artistic production.
Antun Motika's experiments with light and the optical fascination shape his idea of liquid painting.
Motika formed his most important breakthrough outside the field of painting in his various experiments with projections, light and movement, his various lumino-kinetic experiments. Proposals and sketches for different light devices, like light easel, and different apparatuses of projection are found in Motika's notebooks, gathering many notes on his utopian, imaginative propositions that remain that, designs of unrealized projects. Motika's notebooks and experiments direct us outside the known artistic canon towards the the changes of artistic cartography of in 1960s. Pages from Motika's notebook bring into light sketches for lumino-kinetic works, his experiments with light and projections, as plans for various dispositifs and possibilities of their display. Motika produced his projections with various customised projectors (slide projectors, diascopes, episcopes, overhead projectors), transparent backgrounds onto which he applied materials of different sources, organic and inorganic, insects, plants such as herbarium, then pigments, resin, liquids, in order to achieve surprising results upon their enlargement, projected to surfaces as screens.
Read more.
Contributor
Benčić, Branka
Rights Holder
Antun Motika
MoRE Museum
Collection
Citation
Motika, Antun , "Untitled (svjetlosni štafelaj, light easel),"
MoRE
, accessed July 28, 2021,
http://www.moremuseum.org/omeka/items/show/160
.
Social Bookmarking
Item Relations
This item has no relations.