I Nomi del tempo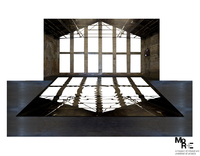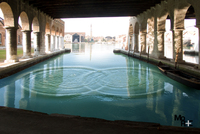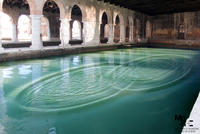 Description
Installation in 2 parts, 2009. Venice, Basin of the Arsenale, Gaggiandre, and Tese delle Vergini, Italian Pavilion.
Environmental dimensions. Light, water, photography, sound.
A) Outside: A semi-submerged photographic image of 60x20m. occupies the stretch of water of one of two ancient covered basins of the Arsenale. The image represents simultaneously two circles of water and the symbol of Infinity. A stone thrown in water has created the splitting of the first cell, giving rise to a multiplicative process. The photographic act freezes the action and renders eternal the instant and the becoming of time, Past and present, stasis and change, finite and infinite are simultaneously present: the place is real and virtual at the same time.
B) Inside: 12 light-boxes placed in the niches of the left wall of the Theater of the Virgin transform the wall in a great self-illuminating façade. Light and architecture are welded into a single radiating structure that transmits light within the building. On the floor in front, a water tank of about 16×16 m. reflects the architecture of light, generating the virtual image space. The still surface of the water is perturbed by the undulatory motion of concentric waves that propagate rhythmically from the center of the tank. The vibration of this liquid surface corresponds with the intangible sounds diffused into the great emptiness of the room: visual and sound waves interact, creating the vibrating movement of the water.
Read more.
Contributor
Longari, Elisabetta
Identifier
Rights Holder
Silvio Wolf
MoRE Museum
Collection
Citation
Wolf, Silvio, "I Nomi del tempo,"
MoRE
, accessed June 24, 2021,
http://www.moremuseum.org/omeka/items/show/21
.
Social Bookmarking
Item Relations
This item has no relations.
Geolocation