Cinema Italia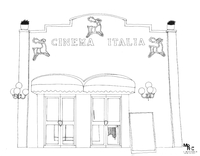 Description
This unrealised project has to be considered in relation with
Ritz
, a project for the realization of an outdoor movie theatre inside a park in Trento proposed the year before (2004), and it consist in the proposal to place of a permanent movie theatre at the P.A.V. (Parco d'Arte Vivente) of Torino, project of the artist Piero Gilardi realized in collaboration with the landscape architect Gianluca Cosmacini.
The project, unrealized due lack of sponsorship, consisted in the facade of a movie theatre in deco style outlined in black on a white background, that recalls a movie theatre seen by the artist in the small city of Anzola Emilia (Bo), on a 4 x 3 meters wing made of painted bricks (as "a big A4 paper sheet"), as can be seen in the sketch that documents this work. On the facade are two entrance doors with their tents and lamps placed on each side, while on the top of it can be seen a decoration with three figures that ironically represent three reindeers as they usually appear on Christmas illuminations and decorations and that frame the sign "Cinema Italia".
Read more
.
Contributor
Modena, Elisabetta
Relation
Rights Holder
Eva Marisaldi
MoRE Museum
Collection
Citation
Marisaldi, Eva, "Cinema Italia,"
MoRE
, accessed June 24, 2021,
http://www.moremuseum.org/omeka/items/show/28
.
Social Bookmarking
Item Relations
This item has no relations.
Geolocation