Ritz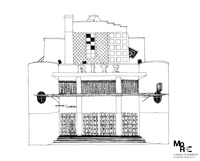 Description
Ritz is a project conceived for the installation of an outdoor movie theatre inside a park in Trento, commissioned by the cultural association Numero Civico. The project, that was not realised,
is proposed by the artist the following year with some changes for the P.A.V. (Parco d'Arte Vivente) of Turin
. The project, originally thought to be placed inside a wood, consists in the facade of a movie theatre outlined in black on a white background, on a 4 x 3 meters wing made of painted bricks (as the artist explains, "a big A4 paper sheet"). The facade recalls a liberty-decò style building, with the introduction of eclectic elements, and it refers to a movie theatre the artist saw in Antananarivo, Madagascar. To enter the theatre the audience needs to move around the wall, beyond which are placed four seats in concrete destined to be covered with moss. The seats address the landscape instead of the wall, that therefore becomes a wing and hides the watchers. Even though the project won the competition, it was not realised in the end because it was not possible to find an agreement with the neighbour that lived nearby the place that was identified as the most suitable for the realization and for other logistic and organizational reasons.
Read more
.
Contributor
Modena, Elisabetta
Relation
Rights Holder
Eva Marisaldi
MoRE Museum
Collection
Citation
Marisaldi, Eva, "Ritz,"
MoRE
, accessed December 4, 2020,
http://www.moremuseum.org/omeka/items/show/29
.
Social Bookmarking
Item Relations
This item has no relations.
Geolocation