[Progetti per una mostra retrospettiva]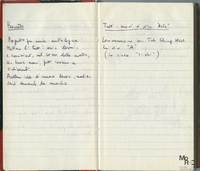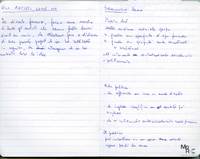 Title
[Progetti per una mostra retrospettiva]
Description
Since 2000 in the artist's notebooks we can find several information and notes about the project of a retrospective exhibition that has never been realized.
One note dated 2001 sketches out the idea of an exhibition of artists who developed ideas similar to Pietroiusti's ones or who even accused him of stealing their ideas. With this project Pietroiusti continues his reflection on the concept of authenticity, uniqueness, physical and intellectual property of the art work.
One more hypothesis, dating back to 2002, rather refers to an exhibition in which the artist planned to exhibit all his art works and to exchange them with new projects realized in collaborations with the visitors or inspired by them.
Read more
.
Creator
Pietroiusti, Cesare
Contributor
Modena, Elisabetta
Identifier
Rights Holder
Cesare Pietroiusti
MoRE Museum
Collection
Citation
Pietroiusti, Cesare, "[Progetti per una mostra retrospettiva],"
MoRE
, accessed March 8, 2021,
http://www.moremuseum.org/omeka/items/show/44
.
Social Bookmarking
Item Relations
This item has no relations.