Monolite in bilico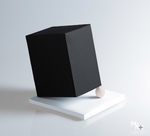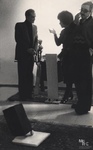 Description
Monolite in bilico consists of a block of slate or lava stone resting on its edge on top of an egg made of travertine from Trapani, and placed on a pedestal of white cement destined for an open space in the city of Gibellina. The exact placement and measurements were yet to be determined. The artist donated his project to MoRE and – given the occasion - recounted the complex history of his work: "After visiting the new town of Gibellina way back in December of 1979, invited by the mayor Ludovico Corrao, I thought of erecting a large monolith made of slate or better yet of volcanic lava, balanced on top of a travertine egg, which was then to be placed in one of the city squares as a symbol of rebirth and a representation of the force of nature. The egg is an archetype of mysterious and symbolic significance, the Sun in the yolk and the Moon in the glare, gold and silver, a reassembled dualism. From this union life is born and perpetuated. The egg prevails over the force of nature by holding up the monolith. That's why it is in the balance. Enthusiastic about the idea, the mayor immediately ordered works to be carried out on the egg. I even had the chance to see it finished, but I never got an answer about the monolith itself, which therefore remained unexecuted. Each time I inquired about the project, I've been given excuses and evasive answers. Thus I ceased to insist because I realized that something or someone was hindering the project. They even went so far as to deny that the egg had ever been made."
Read more.
Creator
Marchegiani, Elio
Contributor
Scotti, Marco
Identifier
Rights Holder
Elio Marchegiani
MoRE Museum
Collection
Citation
Marchegiani, Elio, "Monolite in bilico,"
MoRE
, accessed August 12, 2020,
http://www.moremuseum.org/omeka/items/show/87
.
Social Bookmarking
Item Relations
This item has no relations.