Do it yourself confession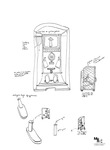 Title
Do it yourself confession
Description
Do it yourself confession
is the idea of a confessional in which it is possible to self-administer the sacrament of confession. Conceived by Gianfranco Baruchello in 1967, the project is unrealised, like many others of the author, and it can be considered a theoretical exercise. In this proposal Baruchello borrowed the philosophy of DIY (Do it yourself), which at the end of the 1960s was growing in popularity, preaching self-sufficiency and opposition to consumerism: a complex of positions of libertarian and anti-capitalist orientation extended to various fields - from housework to cultural production - canonized after a few years by the punk movement. With a paradoxical approach, the artist extends this ethics to the spiritual sphere, implicitly moving a critique to the ecclesiastical institution to which he opposes the values of self-determination of the individual ("CHOOSE YOURSELF TO WHOM OR TO WHAT YOU CONFESS!" as stated in the text of the project). Do it yourself confession is a project created during the period of political militancy of the artist, close to the revolutionary left and to groups like Potere Operaio and Lotta Continua, which brings together the protesting forces that will culminate the following year in the 1968 season. The proposal is made of two drawings, which present different elaborations of the same project.
Read more
.
Creator
Baruchello, Gianfranco
Contributor
Ciglia, Simone
Rights Holder
Gianfranco Baruchello
MoRE Museum
Collection
Citation
Baruchello, Gianfranco, "Do it yourself confession,"
MoRE
, accessed March 8, 2021,
http://www.moremuseum.org/omeka/items/show/150
.
Social Bookmarking
Item Relations
This item has no relations.