Artisti coraggiosi. Natura morta - 2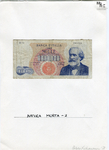 Title
Artisti coraggiosi. Natura morta - 2
Description
The unrealised project
Artisti coraggiosi
proposed by Pablo Echaurren in 1974 to Galleria La Margherita in Rome, involved the participation of the artist who, seating at a table inside the bare spaces of the gallery, equipped with papers, scissors and glue, would have asked the audience to join him in a performance: the visitors were asked to buy one of his work, deciding the price in advance, without knowing what they were going to buy. The hypothetical buyer was supposed to pay the artist in cash, with one or more notes, depending on his choice. The banknotes would become the artwork: cut, torn or intact, they would have been glued to sheets of paper and signed, as if they were traditional still lifes.
Read more
.
Contributor
Perna, Raffaella
Rights Holder
Pablo Echaurren
MoRE Museum
Collection
Citation
Echaurren, Pablo , "Artisti coraggiosi. Natura morta - 2,"
MoRE
, accessed March 8, 2021,
http://www.moremuseum.org/omeka/items/show/151
.
Social Bookmarking
Item Relations
This item has no relations.
Geolocation